Battle of Chancellorsville & Daily Life of Common Soldier.
September 1st to 4th 2016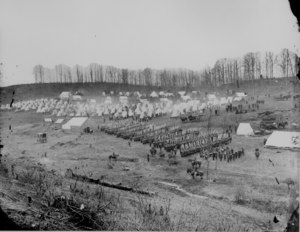 We would like to invite you to our next main international event - Battle of Chancellorsville & Daily Life of Common Soldier.
What you can look forward to
Uniformly build tent camps on both fighting side
Authentic day of a soldier in field camp
Field post and letters from home
Distribution of hard-tack and authentic looking blank ammunition (10 shots for each man)
Arms, ammunition and safety
Weapons are restricted according to the laws of Czech Republic
We recommend to bring 60 rounds of ammunition per soldier
Using ramrods and bayonets during the battle is prohibited for safety reasons
Using plugs for cannon shooting is prohibited; cannon rounds can be wrapped only in foil
How should we look?
Non-authentic outfit (e.g. Indian, trapper, cowboy) is prohibited
Please, try to avoid uncommon uniforms (e.g. zouave, cavalry), which look disruptive in normal infantry companies; whole units in such uniforms are welcome
Union infantrymen should wear standard equipment including sky blue trousers, dark blue sack-coat or frock-coat, black leather equipment, canteen, black haversack and forage cap (as typical headgear in the Eastern Theater of the Civil War)
Soldiers should be prepared for full marching order (with knapsack or blanket roll)
Camp equipment and cooking utensils need to look authentic - no Ikea stools etc.
Number of regimental colors will be limited
Other equipment
Both Union and Confederate troops should use standard A-tents
Let's create authentic experience
Visible modern items such as plastic bags or cigarettes are prohibited
Use your cell phone only in privacy
Follow basic military etiquette: salute to officers etc.
We recommend you to bring along items such as play cards, dice, bibles, authentic press copies etc.
Event schedule
To be announced
Organisation information
arrival possible from September 1st
water, toilets, fire wood and straw provided.
Participation fee
soldiers paying in advance along with sending the form: 13 €
soldiers paying at the spot: 17 €
civilians in authentic clothing: 4 €
children up to the age of 15: free
send the payment (together for whole units if possible) on the following bank account: international transfers: 7491434594IBAN: DE76600501017491434594BIC (SWIFT):SOLADEST BW Bank, Stuttgart
Registration form
send the forms on e-mail address cacwa@cacwa.cz
We would apprecaite if you send the registration forms until the end of June
Where?
Re-enactment will take place near village Arnoltice (near to Frýdlant close to German and Poland borders) in Czech Republic. 50°57'06.5"N 15°06'20.1"E